The Nigerian Army have successfully intercepted an international ammunition smuggling syndicate en route to Anambra State, conducting a meticulously planned stop and search operation along Ajilete-Owode Road in Yewa North LGA of Ogun State, troops of 192 Battalion apprehended a truck bearing plate number (ENU 697 XY). To their astonishment, the vehicle was loaded with a staggering haul: 720 cartons of Red Star cartridges, each containing 25 cartridges (amounting to 18,000 cartridges), along with 250 packets of live cartridges of pellet black (totaling 2,500 cartridges) of the same calibre. The suspects, identified as Mr. Eric Seworvor, a Ghanaian citizen, and the driver, were arrested at the scene. Information available revealed that the ammunition, meticulously concealed within an empty truck, had been transported from Mali via the Idiroko International Border. According to the arrested suspects, their intended destination was Onitsha, Anambra State, where the exhibit was to be delivered to its owner. The timely intervention by the Nigerian Army has thwarted the potential chaos and violence that could have arisen from the illicit trade and use of these dangerous weapons.
They came into Nigeria via the IDIROKO INTERNATIONAL BOARDER, & had passed through 15 customs checkpoints, 10 police checkpoints, & several paramilitary checkpoints, without being apprehended. They were almost on their way to freedom, before the Army nabbed them.
·
The bullets were concealed in a truck, with number plate ENU 697 XY. And one Eric Seworvor, age 32, a Ghanian citizen, was conveying them to ONITSHA, all the way from Mali. Him alongside one Lukman Sani, age 42. From Ado Odo Ota LGA, in Ogun state, who is the driver of the truck.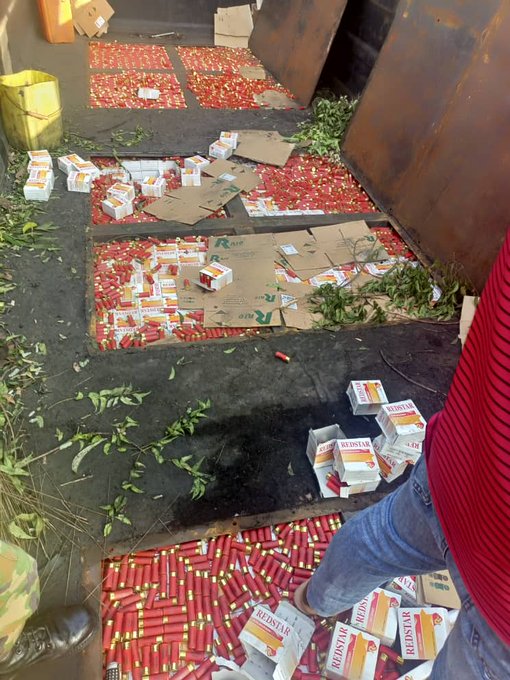 ---
Dear Readers, Good and credible news reportage is tedious task and requires huge finances.
We are soliciting your Noble support for as low as N1,000 your support would go a long way in assisting us to continue to guarantee our readers quality news.
Bank transfers can be made to:
Account Name: Harvest and Commercial
Bank: Sterling Bank
Account Number: 0078627735