The US says it is moving an aircraft carrier, ships and jets to the eastern Mediterranean and will also give Israel additional equipment and ammunition.
It follows the Hamas attack on southern Israel, which President Biden called an "unprecedented and appalling assault".
The US was also working to verify reports its citizens were among those killed and taken captive, Secretary of State Antony Blinken said.
Israel says more than 600 people have been killed and 100 kidnapped.
In Gaza, at least 313 people have been killed following retaliatory Israeli air strikes, according to Palestinian officials.
US defence secretary Lloyd Austin said the USS Gerald R. Ford aircraft carrier, a missile cruiser and four missile destroyers were heading to the region. US fighter jets would also be sent.
Further military aid to Israel would be sent in the coming days, the White House said, adding that the US was working to to ensure that Israel's enemies would not try to seek advantage from the situation.
Iran's President Ebrahim Raisi has expressed support for the Hamas attack, saying Israel needed to be held to account for endangering the region.
Hamas has said assistance from Iran helped it carry out its attack, which involved rockets, drones and militants on paragliders and saw hundreds of fighters break through Israeli border fortifications around the Gaza Strip.
US Secretary of State Antony Blinken said the US had not seen evidence of direct Iranian involvement, but that Iran had been helping the Gaza-based group for years.
"Hamas wouldn't be Hamas without the support that it's gotten over many years from Iran. We haven't yet seen direct evidence that Iran was behind this particular attack or involved. But the support over many years is clear," he told US TV.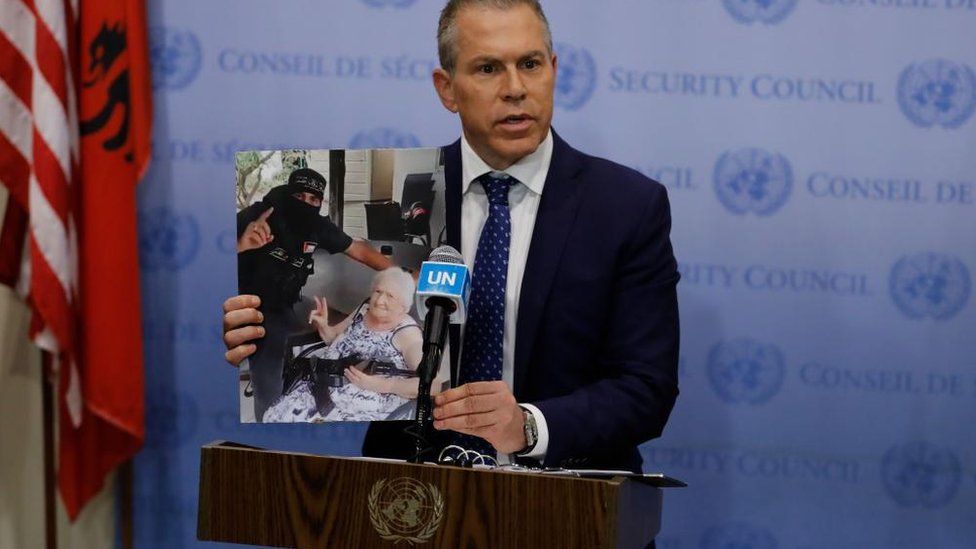 Mr Blinken also said officials were looking at reports that US citizens had been caught up in the attack.
"We've got reports that several Americans are among the dead. We're working very actively to verify those reports," he told US TV on Sunday. Other countries including the UK, France, Ukraine and Thailand have also reported deaths.
He told ABC that "this is a massive terrorist attack that is gunning down Israeli civilians in their towns, in their homes, and as we've seen so graphically, literally dragging people across the border with Gaza.
"So, you can imagine the impact this is having throughout Israel. And the world should be revolted at what it has seen."
Hundreds of people are still reported missing. Among them is 23-year-old American-Israeli Hersh Golberg-Polin, who was at a music festival in the desert which was stormed by militants. His parents told the Jerusalem Post they received two messages from him reading: "I love you" and "I'm sorry."
Israel's ambassador to the US, Michael Herzog, told CBS News that he understood Americans were among the soldiers and civilians abducted in southern Israel but did not have details.
The US sends billions of dollars of military aid to Israel, a close ally, each year. Since World War Two, Israel has been the largest overall recipient of US foreign aid.
The UN Security Council is due to meet in New York shortly to discuss the violence in Israel and Gaza.
---
Dear Readers, Good and credible news reportage is tedious task and requires huge finances.
We are soliciting your Noble support for as low as N1,000 your support would go a long way in assisting us to continue to guarantee our readers quality news.
Bank transfers can be made to:
Account Name: Harvest and Commercial
Bank: Sterling Bank
Account Number: 0078627735